Educate Yourself
You're thinking about making a major decision. Prudential Unlimited Realty offers an array of tools and an experienced team of passionate, professional Buyer Agents to guide and support your search.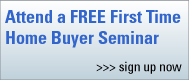 First, you need to educate yourself with details about the process. This can be done in a few ways - you could spend a lot of time searching the web and reading everyone's opinion, or you can get yourself educated in the home buying process by attending a First Time Home Buyer seminar at a convenient location near you.
Next, you need to learn about what's happening in the market and familiarize yourself with the values in different neighborhoods. Prudential Unlimited Realty wants to help you find exactly what you're looking for. We suggest that you meet with your Buyers Agent who will help guide you through the process.