Buying a Home
Whether buying your first home or moving to another home, the buying process can be a daunting, complicated experience.
The process will seem easier and make sense if you take the time to prepare yourself, and the following topics will help you through the journey.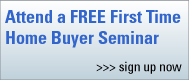 Learn about the Buying Process. Attend a FREE First Time Home Buyer Seminar.
Find a Buyer's Agent. Our goal is to match your buying or selling needs with an agent who will walk you through the entire process.
Five Easy Steps for Buying a Home. Whether you're new to the process or an experienced homebuyer, you can get answers to your questions.
Get Pre-Approved. Want more bargaining power? Get pre-approved and show sellers you're a serious buyer.
Determine How Much You Can Afford. Our calculator will help you determine how much home you can afford.
Get Email Alerts When Homes Come on the Market. Describe your dream home and we will contact you via email the moment a home meeting your criteria comes on the market.
Can We Help? Buying a home can be a daunting, complicated experience.